Esztergom is a city in northern Hungary, 46 kilometres (29 miles) northwest of the capital Budapest. It lies in Komárom-Esztergom county, on the right bank of the river Danube, which forms the border with Slovakia there. Esztergom was the capital of Hungary from the 10th till the mid-13th century when King Béla IV of Hungary moved the royal seat to Buda.Esztergom is the seat of the prímás (see Primate) of the Roman Catholic Church in Hungary, and the former seat of the Constitutional Court of Hungary. The city has the Keresztény Múzeum, the largest ecclesiastical collection in Hungary. Its cathedral, Esztergom Basilica is the largest church in Hungary.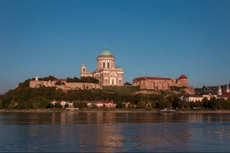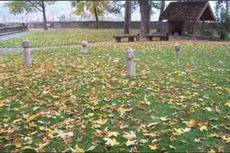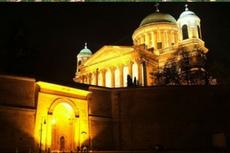 Visegrád
Visegrád is a small castle town in Pest County, Hungary. It is north of Budapest on the right bank of the Danube in the Danube Bend. It had a population of 1,864 in 2010. Visegrád is famous for the remains of the Early Renaissance summer palace of King Matthias Corvinus of Hungary and the medieval citadel. The name Visegrád (Vyšehrad) is of Slavic origin, meaning acropolis, literary "the upper castle" or "the upper settlement". In modern Slovak and Czech the form is Vyšehrad. In Serbian language, it is known as Višegrad and when pronounced, it sounds the same as it does in Hungarian. There is a town in Bosnia and Herzegovina/Republika Srpska with the same name, Višegrad; a city in Ukraine right next to Kiev named Vyshhorod; one in Poland with the name Wyszogród and the Vyšehrad castle in Prague. The castle of Visegrád is called Fellegvár in Hungarian, with the literal meaning "cloud castle". In German, the town is called Plintenburg.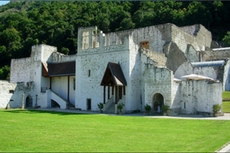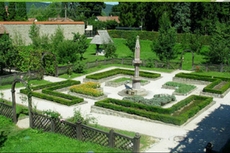 Szentendre
Szentendre is a riverside town in Pest county, Hungary, near the capital city Budapest. It is known for its museums (most notably the Open-Air Ethnographic Museum), galleries, and artists. Due to its historic architecture and easy rail and river access, it has become a popular destination for tourists staying in Budapest. There are many facilities, including souvenir shops and restaurants, catering to these visitors. The name of the town is ultimately based on the Medieval Latin form Sankt Andrae ("St. Andrew"). Because of the diverse mix of nationalities to have once settled in Szentendre, the settlement has a variety of names according to language. The Hungarian name for the town is Szentendre; the Croatian name is Senandrija; the German name is Sankt Andrä; in Serbian, the name is Sentandreja (Serbian Cyrillic: Сентандреја); the Slovak name is Svätý Ondrej. Its name (Sanctus Andreas) first appeared in a student's will in 1146, which was confirmed by King Géza II. The 12th-century city centre was situated around the still existing St. Andrew's Church on the other side of the Bükkös Brook.